Cheers to Leicester legend PC John 'TUBBY' Stephens
Cheers to Leicester legend PC John 'TUBBY' Stephens
Wednesday, 16 May, 2018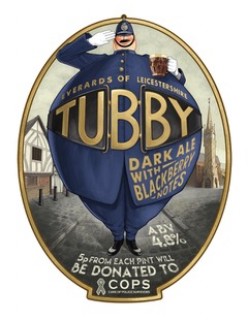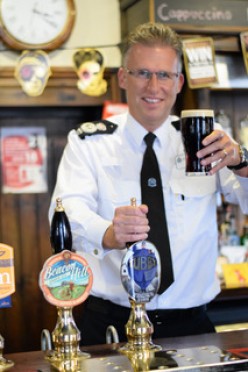 Leicester Chief Constable Simon Cole QPM at Sir Robert Peel
Leicestershire Police is pleased to have worked with local brewery Everards on their latest beer release, which commemorates a Leicester legend.
PC 83, John "Tubby" Stephens served for 22 years with Leicester Borough Police and was a very well-known character in the city. He is believed to be the inspiration behind the song 'The Laughing Policeman' due to his witty, jovial and good humoured nature.
Chief Constable of Leicestershire Police, Simon Cole, said: "Tubby was an iconic Leicestershire police officer who patrolled the clock tower in the late 1800's into the early 1900's. He weighed 24 stone and was a famous figure in Leicester.
"People traveling to the city would know about Tubby and seek him out on duty, where he often had a crowd following him around. 10,000 people attended his funeral – he was absolutely legendary and a real popular figure in the city of Leicester."
5p from every pint of Tubby sold will be donated to the Care of Police Survivors (COPS) charity which supports the families of officers who have died in the line of duty. They ensure that survivors have all the help they need to cope with such tragedies and they remain as part of the police family.
Everards describe the beer as "a dark ale with a rounded character with blackberry and vanilla notes, ideal paired with classic hearty dishes or blackberry and apple crumble served with custard to complement the berry notes".