Looking to enhance your workplace skills and progress your policing career?
Looking to enhance your workplace skills and progress your policing career?
Thursday, 15 February, 2018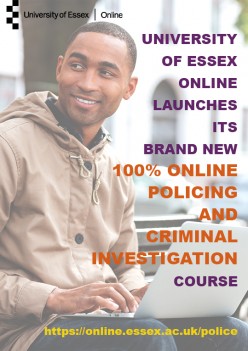 Don't miss your chance to join the first-ever class on the new Postgraduate Certificate in Policing and Criminal Investigation offered by University of Essex Online.
Developed in partnership with the former Head of the Homicide and Major Enquiry Team and Detective Chief Superintendent for West Yorkshire Police, this online programme allows you to continue working while developing your career-related skills and knowledge.
Who is this for?
Delivered 100% online and part-time, this 8-month course is the perfect introduction to the skills and abilities required for a high-level career in policing or investigation. And if you're already working in policing or a related area, this programme has been designed to provide valid CPD (Continuing Professional Development) and will enhance your current knowledge and career prospects.
What will you learn?
During this course you'll discover the wide-ranging techniques used to investigate major crimes, such as homicide and sexual assault, while also critically reviewing effective police leadership and partnerships. The course also has a strong focus on the role of psychology in supporting criminal investigations and policing.
How will you study?
Students at University of Essex Online study entirely online using a virtual learning platform, receiving high-quality resources and support from experienced tutors. This allows students to discuss and debate key issues within their disciplines, discover specialised areas or applications of theories and build working and social relationships with classmates. Every student is also assigned a dedicated Student Support Adviser who acts as their mentor and guide.
University of Essex Online has a 93% student satisfaction rating (NSS 2017) and a silver for teaching excellence (TEF 2017).
This qualification is awarded by the University of Essex - part of the elite group of 'dual intensive' universities rated 22nd in The Times and The Sunday Times Good University Guide 2018.
What's next?
Upon completion of the programme, students have the opportunity to progress on to study for a Postgraduate Diploma in Criminology and Criminal Psychology and a full Masters in Criminology and Criminal Psychology.
Visit online.essex.ac.uk/police to learn more about online learning.
For more information about the course and admission contact University of Essex Online at enquiries@online.essex.ac.uk or call +44 (0) 800 0527 526.