Day 2 British Police C.C Tour 2017 - Sponsored by Police Mutual
Day 2 British Police C.C Tour 2017 - Sponsored by Police Mutual
Tuesday, 14 November, 2017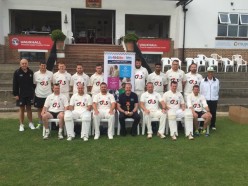 DAY TWO
Tuesday 27th June at the Army Officers Ground, Aldershot v Army – (Sponsored by Police Mutual)
A cloudy breezy day with rain in the air.
Mick Martin stood down resting his injury and Ryan Watkins took over the captaincy, winning the toss, and choosing to bat first for the second day running.
Alan Davidson was joined by Adam Phillips as his partner. The 10th over was negotiated with 50 runs passed, giving BP another promising start before Davidson fell LBW. Phillips went on to reach his maiden BP 50 from 44 balls in 50 minutes from 54 balls (11x4's, 1x6), before he was bowled on 58 with the total on 85-2. There was then a stand of 53 between Ryan Watkins (30) and Richard Wharton (18) before the latter departed. Visions of the day one collapse surfaced as Watkins went on the same score having looked in good nick flicking a 4 off his hip and a 6 over square. The scoreboard registered 184 for 8 wickets. It took a rear-guard action from Jahangir Baig (33 not out) and George Crossley (13) to salvage a respectable final total. They put on 37 for the 9th wicket followed by a 'red inker' of one not out from Andy Sidgreaves. The final count 229 for 9 wickets.
The Army responded with the weather changing and a light drizzle falling, making the ball and outfield greasy. Relph was out for 0, with the total 25 – caught by Callum Rodger off George Crossley. Green went on 32 before he was LBW to Andy Sidgreaves. Fletcher (17) was well held by Crossley off Ryan Watkins, with Brown having a rush of blood charging Rodger's to be stumped by Alex Pockett (70-4). At this stage BP were well in control and ready for any maths the weather might throw up. Keeper Wiseman 41 not out (4x4's, 3x6's from 23 balls in 33 minutes) had other ideas and after a short rain interruption proceeded to smash Duckworth Lewis into submission, aided by some inept bowling and fielding. Off for rain the board showed the Army on 125 for 4 wickets, with DLS on 210 – no further play was possible giving a 15 run winning margin to the hosts. A case of plucking defeat from the jaws of victory!
(210) ARMY v BRITISH POLICE at Army Officers Ground, Aldershot, Hampshire on 27th June 2017
British Police Army
1 A Phillips b Robinson 58 S W Green* lbw b Sidgreaves 32
2 A Davidson lbw b Howlin 15 J R Relph c Rodger b Crossley 0
3 R Watkins*c Green b Brown 38 L M Fletcher c Crossley b Watkins 17
4 R Wharton c Robinson b Hill 18 D D Brown st Pockett b Rodger 9
5 A Pockett+ c & b Brown 1 G Wiseman+ Not Out 41
6 S Taylor c Green b Hill 15 S D Govender Not Out 11
7 D Morrell c & b Brown 11 T Lester did not bat
8 C Rodger b Govender 4 V A Hill -"-
9 J Baig Not Out 33 J R Howlin -"-
10 G Crossley c Wiseman b Simon 13 M Simon -"-
11 A Sidgreaves Not Out 1 L A Robinson -"-
Extras:- 22 Extras:- 15
TOTAL 229 for 9 wickets TOTAL 125 for 4 wickets
1-51(2),2-85(1),3-138(4),4-138(3),5-145(5)
6-161(6), 7-166(8), 8-184(7), 9-221(10)
1-25(2), 2-38(1), 3-69(3), 4-70(4)
Robinson 8-1-50-1 Brown 10-1-32-3 Sidgreaves 5-1-13-1 Davidson 3-0-11-0
Howlin 10-0-55-1 Hill 10-3-23-2 Crossley 5-0-31-1 Rodger 3-0-20-1
Simon 10-1-47-1 Govender 2-0-6-1 Watkins 4-0-10-1 Morrell 3-0-36-0
ARMY WON ON DL (R Knowles/P Mitchell)