British Police C.C. Tour 2017 – Sponsored by G4S
British Police C.C. Tour 2017 – Sponsored by G4S
Tuesday, 14 November, 2017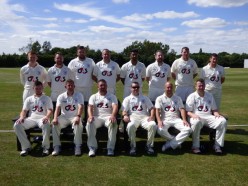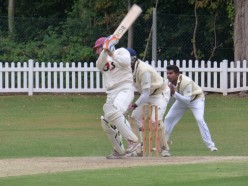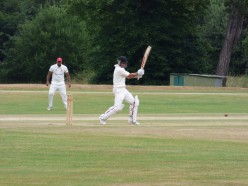 BP 2017 saw a return to the South of England with a Sunday meeting at Basildon – there were to be four new caps awarded, Alan Davidson (Scotland), Andy Lynch (PS Northern Ireland), Jahangir Baig (West Midlands) with James Adkins (Surrey) to join the party later in the week.
There was a fabulous team spirit and closeness within the BP group with players representing all four corners of the British Isles.
DAY ONE
Monday 26th June at Billericay CC v Essex Academy (Sponsored by Arc Legal)
A fine day with high cloud cover.
Mick Martin won the toss and elected to bat, against a strong 'Academy' side, walking to the middle with Alan Davidson, the Scottish left hander on debut. Alan was following the legendary David Brown from the 1970's, as the only previous Scot to have opened for BP.
The Essex attack was all line on length with the batters holding on, with just 49 scored in the first 20 overs. Davidson then entered the BP 'debut highs' club, bringing up his half century with his 8th boundary but perished soon after caught on 52 ( 109 minutes, 93 balls) with the total 92. A really solid start to the week, but sadly, Adam Phillips (2) soon went. Captain Mick Martin followed his opening partner to a half century, scoring his 4th boundary before playing on to depart the scene on 53 (133 minutes, 91 balls), he was also nursing a hand injury which without doubt hampered his progress during the week. There followed an absolute nightmare of a collapse with 7 wickets falling at a cost of 25 runs. 125 for 2 had become 150 all out. Aron Nijjar had the figures of 5 for 33 from 8 overs, with the keeper Adam Wheater holding on to 3 catches in one over!
In reply Essex lost Rahul Shermar, trapped LBW by Andy Sidgreaves in the 4th over, the total 27. Barry Stewart was just able to bowl 7 balls before he pulled a ham string and had to limp away from the action, taking no further part on the field in the tour. A century stand moved the score to 134 before substitute Stuart Taylor took a fine diving catch in the deep, to dismiss his namesake, to claim Jahangir Baig's first wicket. Adam Wheater scored a maximum to win the match, having carried his bat scoring 85 not out, with 14x4's and 2x6's in his sides 15 overs faced. What started with promise ended in a mauling.
(209) ESSEX ACADEMY v BRITISH POLICE at Billericay CC, Essex on 26th June 2017
British Police Essex Academy
1 M Martin* b Nijjar 53 R Shermar lbw b Sidgreaves 13
2 A Davidson c Taylor b Nijjar 52 A Wheater+Not out 85
3 A Phillips c Hyam b Nijjar 2 C Taylor c sub Taylor b Baig 43
4 R Watkins c Wheater b Allison 0 W Bottleman Not Out 1
5 R Wharton+ c Wheater b Allison 8 K Velani did not bat
6 B Stewart c Wheater b Allison 0 A Nijjar -"-
7 G Crossley b Nijjar 8 R Patel -"-
8 A Lynch lbw b Russell 1 B Allison -"-
9 J Baig b Russell 5 A Russell -"-
10 C Rodger b Nijjar 0 G Dixon -"-
11 A Sidgreaves Not Out 0 S Cook -"-
B Hyam* -"-
Extras:- 12 Extras:- 14
TOTAL 150 all out TOTAL 156 for 2 wickets
1-92(2),2-101(3),3-125(1),4-129(4),5-129(6), 1-27(1), 2-134(3)
6-134(5), 7-137(8), 8-150(7), 9-150(10), 10-150(9)
Dixon 8-1-17-0 Russell 4.1.-0-13-2 Crossley 5-0-39-0 Lynch 2-0-28-0
Cook 8-1-22-0 Nijjar 8-2-33-5 Stewart 1.1-0-16-0 Baig 2-0-21-1
Taylor 7-1-33-0 Allison 5-0-29-3 Sidgreaves 4-0-32-1 Rodgers 1-0-20-0
ESSEX ACADEMY WON BY 8 WICKETS (R Knowles/P Mitchell)