Brave Bobby
Brave Bobby
Thursday, 09 November, 2017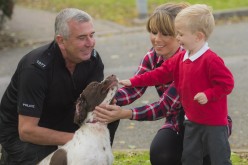 Bobby with mum Georgina and dog instructor PC Tony Mills
A brave boy has been reunited with his namesake West Midlands Police dog to celebrate the news of his brain tumour remission.
Four-year-old Bobby Humphries visited the springer spaniel to share his joy after being told the tumour has stabilised and reduced in size.
The dog-lover - who has received weekly bouts of chemotherapy for almost two years - became a friend of West Midlands Police officer Kerry Lawson after she met his family at Heartlands Hospital.
So last summer she arranged for one of the latest police pups at the force's Balsall Common dog training unit to be named Bobby in his honour - and boost the youngster's spirits in his battle against the grade II tumour.
Bobby, from Yardley, last month returned to see the now one-year-old dog who is now going through an intensive training course with a view to being operational by the end of the year.
Mother Georgina said: "It has been lovely for Bobby to come and see Bobby again to share the news he is in remission.
"It has been a tough few years for us all after the diagnosis but having a police dog named in his honour really raised his spirits.
"We know Bobby is not fully in the clear and there is a risk of the tumour returning but being in remission gives us hope he has defeated it for good."
PC Dave Raymond, from the dog unit, said: "We have kept in contact with Georgina and we were delighted to hear that Bobby was in remission.
"There was a real spring in PD Bobby's step when he saw his namesake. They had a great time together again and there is a very clear bond between them."