The return of the white shirt
The return of the white shirt
Thursday, 07 February, 2013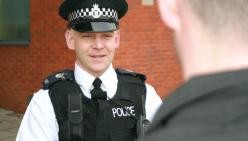 The new shirt offers a return to the familiar look of the 'British Bobby'


Officers in one part of Norfolk have returned to a more traditional police uniform.

Front-line officers in Wymondham are the first in Norfolk to trial a new-style white shirt as a potential replacement for the black zipup polo shirts currently worn by most officers.

The shirt, recently made available, offers a return to the familiar look of the 'British Bobby' whilst maintaining officer comfort with the use of modern wicking fabric around the torso.
Some 47 officers from Wymondham Safer Neighbourhood Team, who patrol the town and 18 neighbouring villages, started to wear the new uniform in public in January.

Assistant Chief Constable Gareth Wilson, who is leading the project, said: "Norfolk Constabulary is one of the top performing forces in the country and we are proud of the service our officers deliver. The new white shirt is practical whilst projecting an image that is professional and smart and has been designed to meet the rigours of modern day policing."