Award for Cheddar
Award for Cheddar
Friday, 11 January, 2013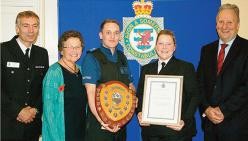 CSupt Tilley, Mrs Pat Robinson, PCSO Hawker, PC Forrest, CC Colin Port

The Cheddar Neighbourhood Policing Team was awarded the 2012 Ray Robinson Award during a presentation on November 15, at Taunton Police Station.

The Ray Robinson Trophy is awarded annually to the police officer or group of officers whom it is judged to have made the greatest contribution to community relations outside of the Greater Bristol area.

Ray Robinson retired from Avon and Somerset Constabulary in 1978 due to ill
health. From his retirement until he passed away, Ray worked tirelessly within the community especially with those who were mentally handicapped.

The Cheddar Team, comprising of PC Kathryn Forrest and PCSO Matthew Hawker, were nominated for the award by their Inspector, Roger Tolley, himself a previous Ray Robinson Award winner.

In his nomination, Inspector Tolley cited that PC Forrest and PCSO Hawker had been
the driving force behind a number of successful initiatives designed to reduce crime and anti-social behaviour in their community.

C/Supt Tilley said: "The two officers embody what a neighbourhood police team should be. They are responsive to the requirements of their community but are also proactive - anticipating problems and putting in place plans to keep their community safe.

"They are excellent ambassadors for the Constabulary and a credit to the Police Service and this award is richly deserved'.