Life saving awards
Life saving awards
Tuesday, 08 January, 2013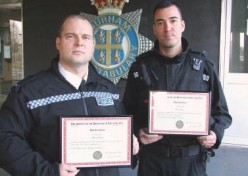 PCs Paul Jackson and Mick Moody


Two County Durham police officers have received a national lifesaving award for rescuing a Ferryhill man from a fire at his home.

PCs Paul Jackson and Mick Moody were presented with framed certificates of commendation from the Society for the Protection of Life from Fire for their actions in January this year. Late one night the alarm was raised after a 24-year-old man rang police stating that he was going to cut his throat and needed to speak to PC Moody or another, named colleague.

As PC Moody was on duty, he and other officers quickly made their way to the scene, a mid-terraced, two-bedroomed house in Chilton Lane, Ferryhill Station. Police made their way in through the unlocked back door and established the man had locked himself in the bathroom. PC Moody tried to strike up a dialogue with the man, who was also still on the phone to the headquarters control room staff.

However, he then made a comment to the effect of "it's too late now" and those at the scene realised they could smell smoke coming from the bathroom. They also established from others in the house that the distressed occupant had a petrol lighter with him and may also have had a knife.

PC Moody then forced a panel in the door and managed to break into the bathroom, swiftly followed by PC Jackson who had retrieved a firearms respirator from his police car to offer protection from the smoke. They found the man unconscious and face down on the floor in the smoke-filled room.

After dragging him clear they administered basic first aid which helped the man recover. Deputy Chief Constable Michael Banks presented the officers with their awards at police headquarters. "Their swift actions undoubtedly helped save this man's life and were in the best traditions of Durham Constabulary," he said.