City Centre Cop Shop Opens it Doors
City Centre Cop Shop Opens it Doors
Tuesday, 29 March, 2011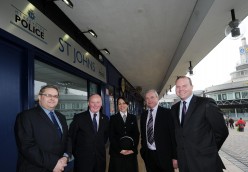 Cllr Bill Weightman, Ged Gibbons, Ch Insp Lousie Harrison, Ed Oliver and James Larmuth
Britain's first privately paid for city centre 'cop shop' opens its doors to the public on Monday, (28, March).

The City Centre Access Point is a public-private sector partnership that sees Merseyside Police provided with a fully fitted out base by retail giant Land Securities, with the rent paid for by businesses via Liverpool's City Central Business Improvement District (BID), for the next three years.

The historic move will save council tax payers approximately £50,000 a year while offering them a direct point of contact with police in the heart of Liverpool city centre for the first time in more than six years.

Liverpool City Centre's policing team moved into their new community access point, situated on the ground floor of St Johns shopping centre over the weekend and are now opening their doors to the public.

Situated in a busy shopping area the 'cop shop' will make it easier for people living, working or visiting the city, to report crimes and provide quick responses to incidents such as lost children and allow officers to be more accessible.

Liverpool City Centre Chief Inspector Louise Harrison said: "The 'cop shop' will provide a police base - for easy reporting and a highly visible police presence which is something that residents and visitors have asked for as an addition to a dedicated policing team which has always operated there.

"Liverpool city centre was recently awarded the purple flag - a recognition for being one of the safest cities in the UK, which is reflected in the hard work of Merseyside Police and partners, the same partnership that has worked so hard to get this project up and running."

Merseyside Police Authority Chairman, Bill Weightman, said: 'Members of our communities across Merseyside have told us they feel safer if they can see the police around them. Our new Cop Shop will help support this reassuring presence in Liverpool City Centre, and provide invaluable support to the many people who visit, live, work and shop in the heart of the city. Merseyside Police Authority is especially delighted that the location is privately funded, as this has allowed us to move forward with such a positive project with relative ease, even in these cash strapped times. It has also helped Merseyside Police Authority honour its commitment to our communities that it will not close any police access point without opening an equivalent alternative.'

James Larmuth, portfolio manager at Land Securities, said: "We initially came up with the idea and following various meetings with the City Centre Police team we developed a plan.

"We got the support of the City Central BID team and so we were then able to join forces and invest in this excellent public service for the City Centre. All City Centre retailers will benefit from the enhanced police presence making Liverpool one of the safest and friendliest cities to visit."

Ed Oliver, Chairperson of City Central BID, which represents 630 businesses across 49 acres of Liverpool city centre, said the 'cop shop' underlined what can be achieved when public and private sector work together.

He added: "Liverpool is clearly a very safe place, but having a direct point of access with the police has been a missing piece in the jigsaw and we're delighted to help rectify this and further improve the appeal of Liverpool city centre."

Alison Stathers-Tracey, Assistant Director for Community Safety, said :"The introduction of a City Centre 'cop shop' makes Liverpool stand out as an example to other cities of what can be achieved if police and other public agencies are supported by private sector."