The Blue Lamp Run charity motorcycle ride
The Blue Lamp Run charity motorcycle ride
Wednesday, 16 March, 2011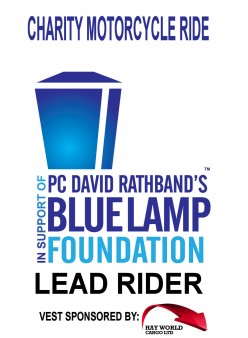 On 14th may 2011 a charity motorcycle ride is taking place in aid of PC David Rathband's Blue Lamp Foundation.

David is our colleague from Northumbria Police who was shot by Raoul Moat, rendering him blind in the tragic events which unfolded in the North East last summer.

Whilst still in his hospital bed, David conceived the idea of the Blue Lamp Foundation, who's aim is to raise £1 million by September 2013 to financially support members of the Police, Fire and Ambulance services who have been injured as a result of a criminal act.

The ride will start from the VOSA checksite adjacent to Junction 1a of the M65 at Preston at 10am, going via Cumbria and Northumbria on some great bike roads and will end some 158 miles later at Blyth Rugby and Cricket Club in Northumbria at a homecoming event where David used to play.

Entry is open to anyone, not just emergency services personnel,individuals or groups and the entry fee is £20 for a bike and rider, or £25 if you bring a pillion passenger. In addition, should anyone wish to sponsor you/ donate then the more funds that can be raised the better. Payment will be taken on arrival at the start point and that we ask is if you are attending as a group, one person makes payment on behalf of the group.

There will be a raffle in the evening and camping is available for free at the rugby club for anyone wishing to stay and camp overnight. The club have kindly given us the use of showers, changing rooms and toilets etc for the night also.
To enter, please contact Julian Berry via email speedcuffs@talk21.com or julian.berry@lancashire.pnn.police.uk
You can visit our website at www.bluelamprun.co.uk for regular updates and more information is available in the Blue Lamp Foundation at www.bluelamp-foundation.org

Any donations of raffle prizes and sponsorship will be gratefully received.